Are you a beginner in SEO (search engine optimization)
want to learn a basic SEO guide term?
As a newbie in this field, we get confused with the terms of SEO and how to use the right method to increase your SEO ranking
Do not worry, this blog will guide you step by step through the process and specific techniques of SEO.
Are you ready? Let's start!
What is SEO & How it Works
SEO stands for "Search Engine Optimization". SEO is the process of optimizing website pages or landing pages in order to increase visibility and high-position search engine results like Google, Bing, Yahoo, and other search engines.
It aims to improve your website's position on search engines. Remember, the higher your page ranking on search engines, the huge amount of visitors you'll be getting to your site. SEO helps in getting organic traffic to our website.
Let's Learn how Search Engines Work!
Search engines work on several interlinked fundamental actions to understand exactly what kind of information is available on pages. Below, we listed Three basic mechanisms i.e: crawling, indexing, and ranking.
Crawling

– Crawling is a method where search engines send web crawlers, it is also known as Google bots and spiders to continually browse pages and collect information needed to index a page correctly.

Indexing

– Once a website has been crawled, it's time to review website information and add it to a search engine database. Also, we call it a process of analyzing the quality of content for search engine ranking signals.

Ranking

– In the process of crawling and indexing, search engines assess lots of ranking factors based on indexed information. Search engines determine where to display specific results on the search engine results page.
Let's read – Why should your Brand invest in SEO
Type of SEO: Core Elements of SEO
On-Page SEO
Off-Page SEO
Technical SEO
What is On-Page SEO
On-page SEO is also known as on-site SEO. On-page SEO is the process of performing activities on the website to improve organic traffic and increase a website's visibility in the search engine results pages.
The proper On page SEO Optimisation of the pages is being done, to improve rankings and user experience. What we'll learn: – 
Various elements include under On-Page SEO are,
Title Tags

URL

Meta – Description

Heading Tags

Keywords

Internal Links

HTML code

On-page content

Images

User experience (UX)
When you understand and work on these elements, you help search engines to crawl and understand your page more efficiently.
What is Title Tag
Page Titles or "Title Tags" are small pieces of HTML code you can find in the source code of web pages. Title tag helps search engines to find the relevant pages of the keyword that you're searching for, so make sure the right keyword is used in the title tag. The probability of having a more specific keyword in the title increases the weight of search engines. Recommended title length is between 55-65 characters. 
Page Titles or "Title Tags" are small pieces of HTML code you can find in the source code of web pages.
Title Tags look like this:
<title>OneZeroEight: Branding, Design and Marketing Agency in Pune</title>
Also, you can check the below screenshot for Page Title
What is the URL?
URL / Page URL is another important on-page SEO element. Your URL should be neat, short, and simple. Your URL should have your targeted keywords, which will help search engines and users to understand what your page is about.
It should convey the message of what content is present on your page. URL should be in keywords with hyphens, not with riddled numbers and long context.
What is Description
Meta descriptions or "description tags" are short portions of HTML code that provide summary-related pages. The text which comes under the title tag is called meta descriptions.
Writing an eye cache, clear description helps the users to understand what content is present within the page, which can help to improve the click-through rate, which eventually helps in gaining more traffic.
<meta name=" description" content=" At OneZeroEight we design and develop cutting-edge, reliable, high-quality Communication Design solutions. OneZeroEight is Pune based Branding and Design Agency">
Also, you can check the below screenshot for the Page meta description
What is Heading Tags?
HTML header tags are used to differentiate the headings (H1) and subheadings(H2-H6) of a page from the rest of the content. Using header tags in SEO, helps us to understand the structure of the page and make it easier to read.
One more reason to use header tags in SEO is to make the page more relevant. You want your headings to introduce what the next section of content is about. The more specific you get, the more specific the heading tags should be.
How to Write HTML Headers for SEO
The way you write your headers and subheads depends on which HTML header tag you're talking about.
Put the h1 tags at the top of your page (of course).

Use the words people would use when searching for what your content is about.

If you're targeting a question, put the question in the h1 tag.

If you're writing a how-to guide, put each step in an h2 tag.

For non-how-to articles, use LSI keywords and other, semantically-related words in your h2-h6 tags. This helps reinforce topical relevance and removes ambiguity.
What is Keywords
Keywords are the terms and phrases that people use to find a specific search query in search engines. Keywords are important because they are the bridge between what people are searching for and what content you are providing.
Knowing your right keywords in SEO is important because all the further strategies are dependent on it
Short Tail and Long Tail Keywords: What Are They?
Now let's understand the short tail keywords and long tail keywords.
1. Short Tail keyword
Short tail keywords are generally the search queries for Single words or two words.
Short-tail keywords attract high search volumes for information. For eg. "Branding", "Marketing", "Design" and "Launching"
For example, the short tail keyword "Branding" uses these keywords to draw high traffic.
2. Long Tail keyword
Long-tail keywords are used for more specific queries or a lower amount of search results.
For example, a short tail keywords "Branding Agency in Pune", "Design Agency in Pune", and "Best Digital Marketing Agency in Pune".
For example, the short tail keyword "Branding Agency in Pune" uses these keywords to drive for a more specific or lower amount of search results.
What are the Keywords Intended?
Keyword intent is the most important concept when it comes to keyword research.
Keyword intent represents the user's purpose, it is defined as why people are looking for a particular search. Or what we think the user is likely to do, when looking for particular queries.
Commercial High Intent Keyword – High Intent keyword is also known as the commercial intent keyword. These keywords signify a strong intent on the keyword searcher to conduct a transaction, whether to buy something, inquire about a service, or any action that needs quick action or has a strong possibility of leading to a later scale.
There are three basic types of search intent queries:
Informational

– searches performed to answer questions or learn something
For eg.:-  Queries with purely informational intent could contain the following modifiers:
How to . . .
Why . . .
Best way to . . .
History of . . .
Anatomy of . . .


What . . . means
Navigational – searches performed to locate a specific website. Also, the searches that contain your brand name signals navigational intent.  If a person types in your brand name when searching, they already know exactly what they want; you just need to give that to them.
For eg. – Facebook, Amazon,etc.
Transactional – 

searches performed to buy something. This intent lies somewhere in between informational intent and navigational intent. These types of keywords can help the searchers to buy things or to get convinced for future purchases. It represents both types of content, either to buy the product/service or to read more information.
For eg: 

. . .

Reviews 

. . .

vs . . .

Best . . .

Top 10 . .
What is Internal Linking –
An internal link is a hyperlink from one page on your website to another page on the same website.
An internal link HTML code Example:
<a href="http://www.same-website.com/">Your Anchor Text</a>
What is External Linking –
An External link is a hyperlink from one page on your website to another page on a different website.
An external link HTML code Example:
<a href="http://www.another-domain.com/">Your Anchor Text</a>
What is Feature Snippet –
Featured snippets are any content that appears on top results of search engines right after the ads. They appear at the top of the Google search results page, which is also known as position 0 also.
The highlighted text provides users with quick information for users search queries. They are more likely to appear when a user enters informational search queries.
Type of Feature Snippet
Text/Defination Snippets
List and Table Snippets
Video Snippets
Text/Defination Snippets
These snippets are typically based on text-based information, it can be a question-answer snippet, a brief description of the content, or a definitions snippet, to the user's straightforward queries.
List and Table Snippets
List and / or table snippets are more likely to represent the data in list format. Typically when a user is searching for the query based on top best  xyz results or steps to perform a task, search engines like google are most likely to give the results in list and/or table snippets.  
You'll see numbered list snippets for: 
Recipes

DIY tasks

How to…

How do I..

Top 10 results
Video Snippets
Search engines help users to find the content in video format as well, especially for the queries like "how to…" 
Youtube plays a vital role in video snippets. So Google tries to showcase the results in youtube videos format, which helps the users to find a solution for their queries in the best way.
Importance of featured snippets
–
Increase In Website Traffic

Increase In Conversions

Increase In Brand Awareness

Increases Website Authority

Increase In Keyword Rankings
What is Off-Page SEO & Its Types
Off-page SEO is any activity that is performed outside of your own website to increase the traffic and rankings to your website within search engine results. Off-page activity tells google and other search engines that your website content is valuable to the users, and they see you as a trustworthy and authoritative position in results.
Some of the off page elements are, – Links, reviews, company information, video, social media profiles and audiences
1. DO-Follow Link
A Do-Follow link is a link that helps in terms of SEO by passing the authority from one website to another site.
Do Follow link looks like:
<a href="https://onezeroeight.in">branding agency in pune</a>

2. No-Follow Backlink
A No-Follow backlink is a link that does not pass authority on to the website it is linking to. It is a great way to drive traffic to the website.
No Follow link looks like:
<a href="https://onezeroeight.in" rel="nofollow">branding agency in pune</a>

What is Anchor text
Anchor text is any text that is clickable text in hyperlinks.
Usually, it is represented in the blue underlined anchor text, though using HTML code there is a possibility of changing the color and underlining of the text.
These types of texts tell users where they can find more information related to the content they are going through. This can be an important factor to improve your SEO's website health.

What is Link Juice
Link juice is the term used in SEO that refers to how much value or authority is passed from one site or another site.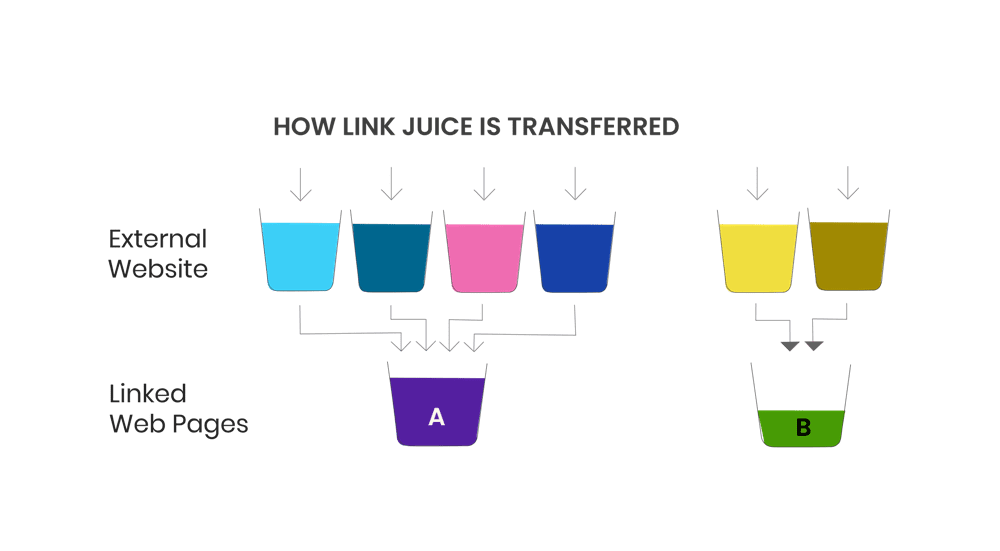 What is the Off-Page Technique
1. Profile Linking – 
It is one of the techniques to promote your website or business on other high-domain sites. Your website URL is linked to other professional high-ranking platforms, applications, websites, etc. This includes placing links on review sites, social networks, blogs, news services, etc.
2. Comment Linking
Comment linking is the technique used to create a social presence on digital platforms. It helps to build a relationship with other users and create an impact on them.
3. Business Listing
Business listing is nothing but providing detailed information about your business on high-domain ranking sites to increase traffic to your website. And create awareness about your business.
The business listing consists of providing the name, website link, phone number, mail id, contact person name, address, timings, cost, etc.
4. Forum/QNA
Forum / Q&A is one of the techniques in off-page SEO, where one needs to join a forum or community related to your industry and discuss or be part of the discussion. You can post your content, ask questions, give suggestions etc.
In short, you're building a presence on such forums by providing value to the users.
What is Guest Posting
As the name suggests, you'll be a guest on another's website posting. It is one of the content marketing techniques, where you will write content for websites, blogs, publications, etc. which is not your own publication. The content is mostly similar to your industry, which helps to build a relationship with other industry users and their clients.
Benefits of Guest posting –
Get paid for guest posting

Build relationships with peers of the same or different industries.

Get high-ranking back-links.

Gives you more content to publish

Increases traffic and reach

Give your readers diverse points of view

Guest posting helps build authority.
What is Technical SEO?
Technical SEO helps in building your website with crawling, indexing, and website architecture. It is one of the pieces of SEO for building your website. It refers to improving the technical aspects of your website for increasing the ranking of your website in search engines. It is a part of on-page optimization, but completely opposite of off-page optimization. Technical SEO can be the way to ensure your website meets all the requirements to rank higher on search engines.
Technical SEO Best Practices
Robots.txt

Breadcrumb Menus

Sitemap Optimization

Mobile-Friendly Pages

Canonical URLs
What is Robot.txt
A robots.txt file is a simple text file that tells the googlebot or search engine crawlers to which pages to skip while crawling for indexing purposes, if you have any duplicate pages that you do not want to index. It is not compulsory though to use the robot.txt file. Anyways google searches and crawls all your web pages and indexes them .
What is Sitemap
Sitemaps are used to understand your website structure and easier to navigate them. It helps the search engines to identify the most important pages of your website to crawl and index them.
What is Mobile-Friendly Pages
As the name suggests, the pages of your website should be mobile friendly. As the users who are interacting with your website on mobiles, don't interact in the same way on the desktop. It is important to have the mobile friendly user experience of your websites. The Mobile-Friendly Test is one of the Google page experience factors or one of the ranking factors.
Basic SEO Techniques: Everything You Need to Know
1. White Hat SEO
SEO strategies are the process of organizing your website's content in such a way that your users find value in it, which will eventually help you to improve your rankings in search engine results.
It is important to have the right strategies in SEO because this will help you to increase the right traffic and increase your chances of converting your prospects into customers.

2. Black Hat SEO
White hat SEO is a tactic to optimize a website without following search engine algorithm guidelines.
Black-Hat SEO is completely the opposite of white-hat SEO. This technique is used only for increasing the ranking of your website pages violating all the search engine algorithms.
The following are the criteria for black hat SEO –
It violates search engine guidelines

It relies on manipulative tactics

It focuses on "quick wins"
White Hat and Black Hat SEO Technique
What Hat SEO
Black Hat SEO
Quality Content
Duplicate Content
Relevant Title and Description
Keyword Stuffing
Link Cloaking
Relevant Link and References
Link form Irrelevant sites
Well Labeled Images
Hidden Text
Content Spelling & Grammar
Article Spinning
Conclusion
We hope this article helped you learn all aspects of the basic SEO guide, so understanding the basics can certainly help you to properly optimize your WordPress site. SEO is a vast area, understanding all the concepts in depth needs a lot of time and effort. We would recommend you to have practical knowledge as well as theoretical knowledge, as this would help you to build a strong career in SEO.
For any queries on how to create a strong SEO strategy for your brand building, connect with us today!