Nothing has excited me more than taking One Zero Eight ahead year after year. Since its inception I have tried to make sure that the warmth, passion and freshness I had when I started should reflect in every venture undertaken by One Zero Eight, be it internal or for clients.
It is the fifth year of One Zero Eight and the journey has been a roller coaster ride of achievements and experiences. The company which started with 2-3 employees is now soaring high with a growing pool of young energy, fervour and talent. The team is eclectic with expertise in diverse fields.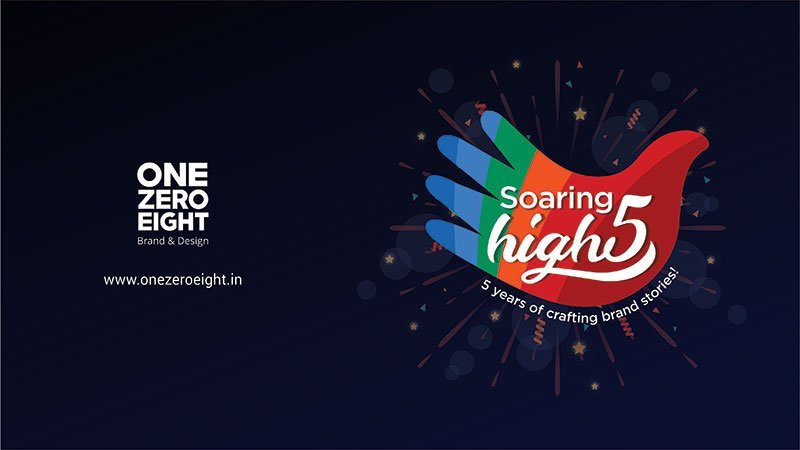 DIVERSIFICATION OF CONTENT FORMATS
The felt need for good visual communication is as crucial now as it was 5 years back and there is a lot of potential in the market for us to explore. The gap is as vast as the sky and we are soaring to try and bridge it.
While the last year has seen diversification on content formats, it has opened many doors to explore new media of communication as well.
Clients today are more informed than ever. In the vast ocean of content flooded on the internet, the need of good design and relevant content creation has become more important than ever to grab eye-balls.
As content creators we also deal with lot of responsibility though.
COME BE A PART OF THE ONE ZERO EIGHT CLAN!
One Zero Eight constantly looks for creative, open minded and knowledge-sharing people from the industry. We constantly invite people from creative industry or even people who can share the experience in general about life, work and balance; the mantra we thrive for.
These people have been an integral part in shaping the brand personality of One Zero Eight.
We keep adding new services in our kitty but our core philosophy of identifying problem areas and finding meaningful solutions through all advertising media never changes.
WHAT LIES AHEAD
In 2018, I am observing two things predominantly. The first is an attempt is to explore new media and thinking of ideas and concepts and strategies which are adaptable across different formats.
Secondly, understanding the importance of being highly insightful and having a to-the-point approach towards content generation in order to avoid being mediocre in overall communication strategy.
Well, both of these points need creativity at its heart and hard work at different levels of execution.
THE ONE ZERO EIGHT APPROACH
One Zero Eight has a 60-40 approach towards design thinking and technical expertise respectively. While every individual brings their core expertise on board, together we all align to this approach.
The Indian market has always been challenging when it comes to advertising. Given the fact that languages and culture change every 100 kms, brand communication also takes a detour even before we think of various platforms.
CONCLUSION
It all boils down to stick-to-basics attitude with thorough research being the backbone and brainstorming being the school of thought.
At One Zero Eight we welcome every crazy, happy and smart thought that has the potential to stay with the audience for a longer period of time. We are thinkers, we are doers and we are futuristic. Our expertise lies in the process, and not a particular product or service. Our approach is that of a creative boutique that solves a client's problems through design thinking, be it in any niche.
I wish the best to everyone in my team, our clients, our partners, associates and well wishers who allowed us to express ourselves with their projects throughout this period.
And we have some exciting news coming soon! STAY TUNED!